4th twinning meeting of Green Line
Between 21-22 of October 2019 our CEO Róbert Musits and our colleagues Judit Vinhoffer and Gábor Heves took part in the 4th twinning meeting of the Green Line projekt. The program was held in Martjanci in Slovenia.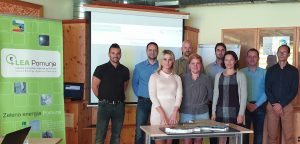 On 21st of October the 4th twinning meeting was organized by LEA Pomurje in Slovenia. During the meeting the participants visited the Ocean Orchids Garden in Dobronak where the main topic was the sustainable use of geothermal energy for greenhouse and checked Solar E-Tree in Puconci which is user friendly example of raising awareness of the community on environmental sustainability. On 22nd of October the partnership held the 4th projectmeeting where discussed about main results and work flow of WPs.