IMRO-DDKK participates in the lunch debate about Sustainable Development in the European Parliament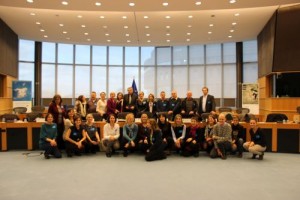 On 18th November a lunch debate was held at the premises of the European Parliament in Brussels with the aim of discussing about the 17 Sustainable Development Goals (SDGs) and their transition into concrete policies and actions. Being part of the international consortium created for implementing the EuropeAid-financed, EYD2015: The Future We Want project led by Climate Alliance, IMRO-DDKK had the opportunity to attend and participate in the lunch debate where project participants presented how cities are already practicing what the 2030 Agenda for Sustainable Development is preaching.
Project partners also entered into a discussion with Members of the European Parliament Committee on Development, to point to how the local level can be better integrated in multilevel governance processes and how it can obtain further technical and financial support. Linda McAvan, MEP and chair of DEVE Committee stressed that good governance starts at the local level, tailored to the reality of the citizens.
Representatives of three European local authorities were also invited to introduce their local activities already undertaken in the field of sustainable development. Ivana Djedović, Deputy Mayor of Daruvar (Croatia) told participants about the city's successes in crossing ethnic barriers and increasing schoolchildren's awareness on topics such as forests, local heritage and sustainability. Sandor Czegzi, former Mayor of Tirgu Mures (Romania) presented their city's efforts to improve energy efficiency of their buildings. Koen Pardaens, Deputy Mayor of Zoersel (Belgium) impressed participants with his city's unique partnership with the town of Bohicon, in Benin, West Africa.
Afterwards, Rosario Bento Pais, DG DEVCO Head of Unit for Local Authorities and Civil Society, took the floor and explained the need for active participation of local authorities in addressing global challenges such as climate change, inclusive development, migration flows and resilient local economies. She also highlighted the new integrated Covenant of Mayors, which also involvels the city of Nagykanizsa and combines both mitigation and adaptation in a 2030 framework. Referring to it as a flagship initiative, she expressed her optimism that it will go on being the mainstream framework for local authorities across the continent and beyond.
Davor Stier, member of the DEVE Committee also had the opportunity to intervene and emphasized the principle of universality included in the Sustainable Development Goals (SDGs). Finally, Camille Gira, Secretary of State for Sustainable Development of Luxemburg, elaborated on the interlinkages between climate change, land degradation and migration. He also stressed that we are at the crossroads for a third industrial revolution that will focus on decentralization.
Download full report elaborated by Climate Alliance
(Photo: Climate Alliance, http://www.climatealliance.org/eyd2015.0.html)